Trip to Cuba and Mexico 2006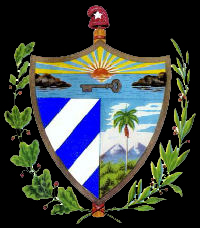 The Planning Stage
...come on...This is suppose to be a free country and the gov comes up with a policy to contain Americans...what's with that?....America is the only country in the world right now outside of North Korea where it's citizens do not have the freedom to travel where ever they want...sure...you can volunteer to go to Baghdad to kill people and maybe get your head turned into a hood ornament but you cant go to Havana to sample a local cerveza and a cariba? .... So I want to dedicate a couple paragraphs here on just some possibly valuable info on how to be free in an increasingly Orwellian society of America that is reminding me more of the old U.S.S.R. than the U.S.S.R. did of the U.S.S.R. Good to be British but if your not then here's some tips. First Read the Trading with the Enemy Act. It's the law that the prez uses to control you because he says Castro is a threat to national security.
The biggest but not so big difficulty in going to Cuba is getting reservations on planes and hotels. As my credit cards which are drawn on american banks are useless for any purchases having to do with Cuba. Mexicana airlines are aware of this and have set up a special phone number to assist U.S. travelers in making flight reservations to Havana from Cancun or Mexico City. You can book a regular reservation and they wave the need for payment within 24 hours of booking. You just pay cash 3 hours or more before the flight when you check in. Those Mexicans...crafty buggers. The number is 1-800-531-7921.
Hotels are just as easy. I just use my credit card to book my room through a company called Venere based in Italy. I pay the Italians, They pay the Cubans.
My first choice for a hotel was the Cubanacan Comodoro, but right before I confirmed I decided to go over to Trip Advisor.com. It's like the Central Intelligence Agency for travelers. Where prior travelers to hotels or places can write in reviews. Here's some of the reviews for the Cubanacan Comodoro
rating name review

L. E., England Receptionist seemed to be unsmiling, unhelpful Haitian zombie. who could not give me time of day, let alone a room key that worked.

C. Meadows, Canada Worst holiday of my life, beer cans float in algae green swimming pool, blood on bed sheets, bathrooms not cleaned. Hairs everywhere.

B. & M, England Fawlty Towers without the Comedy

Trip Advisor member The Horror.

Yuri Pashko, Russia I like very much, the girls are very pretty and only $20-$30
Allrighty then....... back too the internet to continue hotel search......
........Aha...here's a nice little gem of a description. Los Frailes Hotel.
On the narrow alleys of Old Havana, the Los Frailes Inn stands just a few steps away from the majestic convent of Saint Francis of Assisi and the populous Old Square.

The former mansion of the fourth Marquis and Captain of the French Navy, Don Pedro Claudio Duquesne, once visited by the finest nobility, ecclesiastical dignitaries, military authorities, renowned artists, the best of Cuban and foreign society, has become today the perfect place to enjoy the voice of silence and meditation in the pleasant afternoons of the old city. Right at the entrance, a copper sculpture of a monk welcomes visitors, inviting them to an imaginary trip to a medieval abbey.
Perfect...anyplace that's good enough for ecclesiastical dignitaries is good enough for me.
Coordinates for Los Frailes N.23°08.260' W082°20.905' WGS84
Money. My last trip to Cuba in 2002 I didnt have to change money as U.S. dollars were accepted everywhere. But today American currency is illegal for trading except at a bank in exchange for cuban pesos. But they slap a hefty 10% fee on the transaction as punishment. So the best bet is to bring in mexican pesos or better yet, Euro's. these can all be changed right at the airport after clearing customs.
Espanol
Okay...in Cuba the local language is Spanish. Although in Havana, English is spoken by the younger generation and in all hotels, most taxis, restaurants, etc...but when outside of Havana...not so much....so it is good to get a phrase book if like me the Spanish is...not so good. Also good to memorize numbers....the international language of numbers is very important in most basic communications....plus memorize basic greetings....and certain phrases. Here's a small tutorial of phrases that may or may not come in handy:
Noes mio! yo soy inocente ! = That isn't mine!, I am innocent!
the Cerveza demasiado frio! = The beer is too cold!
Una pelicula de ocho milimetros, en blanco y negro? = Where can I find black and white 8 mm film
Getting There
A redeye flight to Alaska is acceptable. A redeye flight to Cancun through Dallas is not. What a friggen zoo! I arrive Cancun simultaneously with 4 flights from Dallas, A couple from Miami and maybe 20 more from other cities and hubs of the World. 5000 passengers herded into a space designed for 400.
I receive my Cuban visa the same time I purchase the airline ticket from Caesar Romero. I always thought Caesar Romero was the actor who played The Cisco Kid and Batman's Joker...but no....Caesar Romero is a chap that sells Cuban Visas to tourists in Mexico.
Note to Self: Do not fly Click Airlines. Yes..."Click" is an airline. Take a used 2nd hand Fokker 100...sell it to Mexicana Airlines....let them fly the hell out of it until certain components wear out, perform poorly...or not at all, like the interior lights, the air conditioning, the upholstery, the landing gear, the ailerons, etc, etc. Then sell it again to a Mexicana subsidiary. Have them fly it 4 times a day back and forth to Havana for several years and Voila! You have "Click" Airlines. So why do they call it "Click"?...well....just a minute...let me continue here. You take it's discrepant aluminum tube that has never seen the light of day since the day it was built and you fill it completely full of smelly and sweating people like myself that have never seen the light of day for the 12 hours after checking into the un air conditioned air terminal. Infuse those people with alcohol there for 12 hours until they become loud and obnoxious or passing out loud while snoring drunk....dropping their spore, viruses, and bacteria to add to 20 years of spore, viruses, and bacteria left behind by prior drunken travelers. So why do they call it "Click"?.....haven't a clue unless because it's the sound the struggling air conditioner system makes as it's trying to process the thick and heavy odors through the filtration systems.
Boy...am I glad to get on the ground at the Jose Marti International airport in Havana....where there is like some weird reverse security. You have to go through the metal detector and X-ray process again...immigration is friendly and fast and the customs room where you claim your bags is full of loose dogs of various breeds walking about...some sniffing each others ass...some sniffing baggage...some crashed out snoozing next to conveyor belts and luggage. 5 minutes and I'm in a Taxi to Old Habana. It's 12:30 am now... I am sure tired as a billboard of Venezuela's president Hugo Chavez passes by in my peripheral vision.
Accommodation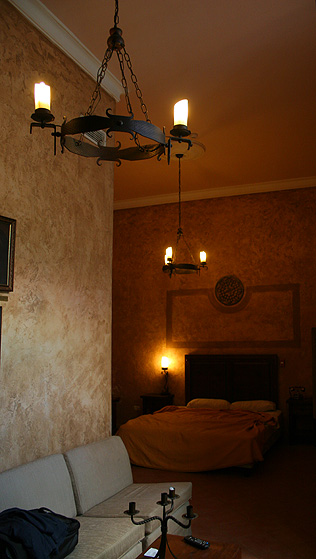 Okay....arriving at The empty and dark square of the church of San Francisco of Assisi where a very helpful man takes my bag from the boot of the taxi and escorts me two or three blocks to Hotel Los Frailes....wow....Incredible!...the short walk across the square down the alleyways and into the lobby of the quiet and quaint hotel. I figure this is probably the most atmospheric hotel I have ever had the fortune of having to have stayed at in my travels....If only Mary could experience this. No auto's are allowed evidently in the narrow alleys of the Old City. Except for my guide I see only a couple policemen standing near an intersection who are oblivious to my arrival. The Man inside the Lobby of the hotel is dressed in a Monks outfit and fat enough to be Friar Tucks brother. Just as with my first visit to Cuba there is the strange sensation of entering another time. They do not have the room I had reserved through the Italian company but have upgraded me to another bigger room with a balcony view just for the one day until my regular room becomes available. Their friendliness is soothing to my fatigued mind and body. I am handed a large skeleton type key and walk upstairs to room number 22. balcony....decor of a monastery...toilet, bidet, TV with CNN no less. small refrigerator fully stocked. Well....we will just help ourselves to that cold can of Crystal Cerveza ....and fall back flat on the double bed as the days events dissipate from my mind and fade into a blackness....
Cuba
The Sun arrives....or the Earth turns....how ever you want to look at it and I'm up with the maids arrival at the door...9:00am...shower and pack my things for the move to room number 2 downstairs...hey...this one isn't so bad either...the courtyard is wonderful. breakfast down the road at the corner. It's free there...well kind of....I show my card that says I am residing at the Hotel Los Frailes and it's all smiles, coffee and scrambled eggs. The coffee rivals Starbucks...I would think that would be difficult but no...it's true....top Cuban Bean product....yeah, that's right...Cuban Jitters are the best.
There are 3 types of guides in this country.
1.) Official Tour Guides
2.) Unofficial Tour Guides
3.) Criminals
Sometimes I need some outside intelligence to just figure out where things are, how things work, and what the hell is going on. So tomorrow is May 1 ..Mayday..and Fidel Castro is going to make his annual speech at the Place de Revolucion. Sort of a State of the Union speech, which I want to attend....it's the central activity to my trip here, but I need Intelligence...I've been to the Place De Revolucion before but from this part of the city I only know it's general direction. Lets see....that guy over there across the street is definitely an Official tour Guide....I mean...just look at him...fancy dress, name tag....too commercial for me and probably involved in an organized group of Europeans. Now this guy over here is a criminal. Sure he'll be willing to give you information but his real motive is separating yourself from yourself's money....you can tell by the way he scans crowds, individuals...shadiness, shiftiness, scariness. Now over there at the Horse cart of tourists I believe is my man. I've been watching him for about ten minutes....he's pestering tourists to buy Cohibas. Cuban Cigars. He seems to speak good English and hasn't got any takers that I can see. So...lets test the waters shall we....
"Hoila Amigo.....You Speak English?"
"Yes...you want Cuban Ciger?...Cohiba?...Monte Christo?...."
"No Amigo...No Cigar....my name is Daryl and you are?"
"Manuel"
"I was wondering Manuel?....Tomorrow...celebration in Place De Revolucion?"
"Yes....Fidel Castro will be making a speech to the people."
"I hear there is going to be 100,000 people there?"
"Oh...more than that senor...maybe a million."
"A million!"
"Yes....They come from all over Cuba..."
"Will you be there?"
"Yes....it is my obligation"
"But what if you dont want to go?"
"Then maybe when I go back to my Job Tuesday they say I have no job....if you have to work during the speech then you do not....have to go...but it is a holiday so many people will go."
"So when does Castro start speaking tomorrow?"
"About 8:30 to maybe 12:30 or 13:00"
"4 Hours!"
"yes...in the morning everybodys eyes are closed but in 4 hours they are wide open."
"No problem for me manuel to be there?"
"No amigo...it is no problem."
"Good...very good...I plan on being there...."
"Yes Daryl....now I show you the Cohibas at the market...you no hafta buy...just look"
"Okay Manuel...I will look but I am not going to buy...I am not"
"No problem Daryl."
Well those cigars Manuel sold me are pretty good I have to admit.
Break for commercial....Fidel Castro for Strohs Light
Cuba, May 1
Hoila! it's past seven? What happened to the alarm! I'm gonna be late for the big event. Up and at em dorkmunder. Fidel aint gonna wait for me.
To the cafe to slam two shot size cups of coffee and off to the Place de Revolucion. I know it's general direction but not it's exact direction....so lets just walk, okay? hmmmm...no matter which route I walk out of old Havana I keep coming out at that same statue. what's with that?
"Hoila? Amigo....Como Se Ve a Place de Revolucion?"
"Si Amigo...Todo derecho....."
"straight ahead?...okay...Gracious"
Did he say straight ahead? damn my Spanish. it's only 8:00 and I'm sweating buckets. Walk faster.....Faster...
ooooOOO....cool statue of Don Quixote....Lets see...I've been going straight ahead now for about 2 to 3 miles on this road. Got to walk in the friggen center because bricks look as if they tend to fall quite frequently from these discrepant buildings. I mean look at that one there....it just don't look safe...looks like the whole structure is about to lose it's fight with gravity....I bet they lose people every year to bricks upside the earo.
....More people now...I think I am merging into a migration....perhaps turn left at this intersection and up the hill.....yep...yep...more people...buses...buses everywhere. We are closing in. Groups of people everywhere. Fidel's voice emanating from speakers here and there...Lots of red shirts here and there...lots of Cuban flags. I hear now his booming voice on some big big speakers up ahead. This area now looking very familiar....yes siree...it's the Place de Revolucion. There's Che Guevara's face to the left, Jose Marti to the right. The masses are getting more massive as if a school of fish caught in an ever tightening net. And there he is as my eyes sweep the base of the obelisk memorial To Marti.
Behind the podium in his trademark army green fatigues.....Fidel Castro, The epitome of Cuban Socialism, The Center axis of the revolution, the leader of Caribbean communism, The rebel......friend of the great Guerrillero Heroico Che Guevara......Puppet of Khrushchev, Brezhnev, and Andropov.....before Andropov dropped off. Oh yeah...and then there was Chernenko...but does 1 month really count. And don't forget Gorby, Boris, and Vladimir. He's seen em come, he's seen em go.
The Survivor....how many American presidents?....9?...Kennedy, Johnson, Nixon, Ford, Carter, Bush, Clinton, and King George......8
How many assassination attempts....untold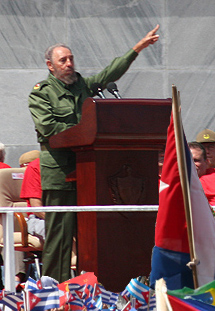 ...
The war against Batista...The Nuclear missile crisis.....
The Survivor. And here he is a mere 200 feet in front of me babbling some Spanish revolutionary babble while alternately striking his finger to his podium and pointing to the sky. I don't understand much of anything he is saying but I can feel what he is saying by observing the actions of the people.
This crowd sometimes seems distracted....talking amongst themselves.....then now there is a wave of attentiveness that grips them and they are all suddenly quiet.... a flag waves....and then 10 flags and a second later hundreds of flags are waving and loud cheering.....His words are like the epicenter of an earthquake sending out emotional seismic waves through human masses.......
.....The cheers slowly die down....the flags become still...and a temporary calmness prevails until the Survivors words stirs passions again...
This continues....for over 4 hours.
It is over 90°F...Fidel wears no hat and I do not observe him take a drink of water....Mr. Tough Guy.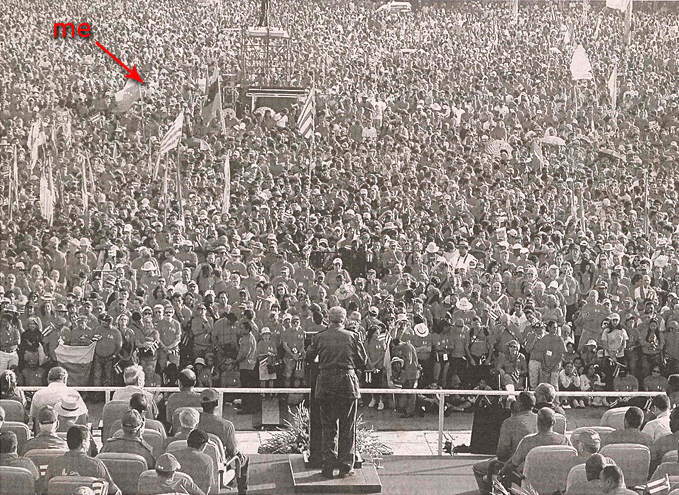 This photo above I scanned from the cover of the local Havana newspaper the next day, May 2. I was quite chuffed in that I could find myself in the photo.
Here is the scene from my perspective below.
The Clarinet is my favorite instrument. it's sound is so rich and smooth unless Kenny G. is playing it. Then you can Can the Kenny G. You don't see a lot of recorded music here. seems everybody plays instruments of one sort or another. Live music in cafes, live music in restaurants, live music on the streets, at the waterfront. Reminds me of a man I met in Senegal in a cafe remarking on a very talented man playing an exceptional clarinet. "We don't have much but we do alright" he says.
When the U.S. pulled out of Cuba it left it's old cars and Lucky Strikes behind. Some of the cars are clunkers and some are in unbelievable condition. Most if not all have had the engines replaced with Russian motors. basically just body and chassis are all that's left of the original components .
I was in a cafe last night ordering a buckanero and the waiter says to me....Chuck Noree!...Chuck Noree!...
Oh Brother...if I had a dollar for every time somebody called me Chuck Norris...or said I looked like Chuck Norris...In Romania ..Hey!...Chuck Norris! In London...hey Mr., You look like Chuck Norris.....In Morocco crossing the northern edges of the Sahara desert...the Taxi Cabby turns too me and in Arabic he says Blah Blah Blah Chuck Norris Blah Blah Blah.....I don't even think I look like Chuck Norris....but I guess I don't mind too much...because Chuck Norris is a bad ass...it beats looking like Pee Wee Herman I suppose. I mean Chuck Norris is badder than bad. We all know that Ghosts are caused by Chuck Norris killing people faster than death can process them....that's Bad!...we all know that Chuck Norris doesn't go hunting because the word hunting implies the possibility of failure. Chuck Norris goes killing ...........Chuck Norris puts the laughter in manslaughter....and he frequently donates blood to the Red Cross...just never his own. So no... I don't mind being mistaken for Chuck Norris... So I give it to you below...do I or do I not look like Chuck Norris?
| | |
| --- | --- |
| Chuck Norris | Daryl Moistner |
I came across this man and his assistant shooting tourists with what may be a pre 1950 Grafix and gave him 3 pesos (75 american cents) to shoot my photo. I find the antique look of the photo combined with the look of photos from todays modern cameras an interesting juxtaposition.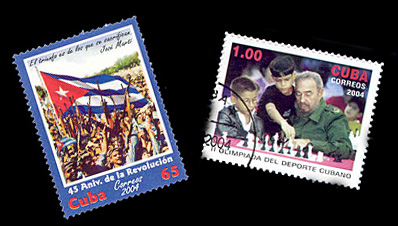 Political Rant
I've never had any formal training in international relations but I do read history books and political books. I'm a newsaholic of the first degree...I cant get enough of current events. I read the New York Times, the Washington Post, CNN, the BBC, and Al Jazeera religiously everyday. Then I supplement that with a wide array of other newspapers and periodicals here and there when time allows. I travel a lot....I don't like to go to someplace like Cancun or Cabo San lucas where I sit on a beach among others of my own kind and drink booze until I fall into a stupor. I'd rather do that in someplace where shit is happening and amongst the local inhabitants...where I can see with my own eyes and hear with my own ears.... Anyway...what I am getting at is this trip to Cuba and my realization that all these professionally trained diplomats who have spent years and careers in making policy concerning U.S. relations with Cuba have consistently made decisions 180° to anything that would be considered diplomatic and that would break a stalemate between the two countries. Reverse diplomacy I call it. Is not diplomacy the art of finding common ground and moving ahead at how ever incremental steps it may take. Any forward progress is better than none....and certainly better then reverse. Every provocation and policy decision by these highly trained American diplomats has backfired and worked against America not Cuba.
The 2006 Nobel Peace Prize for Economic Science went to Robert J. Aumann and Thomas C. Schelling. American diplomats would do well to investigate their work. These two brains wrote the book on conflict and cooperation through game-theory analysis. Aumann's studies indicate that cooperation is easier to sustain in a long-term relationship than in a single encounter. America's relation or cooperation with Cuba is practically nil and based on the one encounter that set it's Cuban policy in place and that was the communist revolution and the progression of that which resulted in the Cuban missile crisis. The embargo has absolved any long term relationship where diplomatic improvements can be pursued at all let alone in incremental steps supported by game-theory analysis.
Take Vietnam as an example. a terrible unpopular drawn out 10 year war over the threat of spreading communist ideology. The Americans departed suddenly in 1975 and broke off all diplomatic ties. the U.S. even supported Pol Pots murderous regime, the Khmer Rouge because they had advanced on South Vietnam in an attempt to consolidate large areas of the fertile Mekong Delta in the late 1970's. Well we all know what happened there. The Vietnamese pushed the Khmer Rouge all the way back to Phnom Penh and discovered the ongoing genocide of millions of people. America was financing this genocide. Anyway...I'm getting away from where I was going with this....Through incremental diplomatic efforts through the eighties and nineties America was able to normalize diplomatic ties with Hanoi and opened it's new embassy in Vietnam in 1998. In a period of 7 years Vietnam and U.S. trade has grown exponentially to 6.5 billion dollars in 2005. Walk the streets of Ho Chi Mihn City today and you cant even tell it's a communist country. There are KFC's, Pizza Hut's, Sheraton Hotels. Tourism is a huge economy there and the graph just rockets skyward. America couldn't defeat Vietnam militarily but it sure conquered it with it's franchises after normalizing ties. Now why normalize ties with one communist country and not another. Why not an embargo against the other 4 remaining communist countries? I can only believe it is because of the powerful anti-Castro lobbying committee in the all important electoral state of Florida . When the popular vote comes down to the wire, those Cuban American votes tip the scales.
47 years of an embargo. Sanctions. Do they really believe it is working? A half a century. Unbelievable. Communism can be defeated from the inside...not the outside.
Here's the diplomatic missteps and the result:
1.) Not reestablishing diplomatic ties when other countries did, Canada and Mexico in 1972
2.) Putting in place a Cuban travel ban on Americans,
A ban not to contain Cubans, but one to contain Americans. The free Americans are not as free now as citizens of other countries who can freely travel where ever. Under the Helsinki agreements of 1975, Universal Declaration on Human Rights (Section 13.2)which says that any citizen of any country should be able to leave his county, cross international boundaries and then return to his country without problems or harassment from his own government. the U.S. signed on and agreed to "commit to the free flow of people and ideas across international borders.". Then they reneged.
3.) Offer financial assistance and support to the Venezuelan terrorist Posada Carriles who successfully brings down a Cuban airliner full of teenagers and the Cuban National Fencing team in the worlds first in flight bombing of a commercial airliner. And offers support to said terrorist as he bombs tourist Hotels in the 1998 in Havana.
Undermines Americas war on Terror and makes president Bush appear two faced.
4.) Harbors the Terrorist Posada Carriles in Texas in 2006 by charging him with immigration irregularity and allows him to apply for American Citizenship to get around deportation issues.
Again it Undermines Americas war on Terror and makes president Bush's words: "The United States makes no distinction between those who commit acts of terror and those who support and harbor them, because they're equally guilty of murder."ring hollow.
5.) Provokes Castro by scrolling anti-Castro and human rights messages on a giant illuminated board on top of the U.S. special interests building in Havana.
Castro builds a huge monument of some 300 flags to Cuban martyrs that blocks the view of the illuminated messages and places anti-Bush billboards along the highway outside the building. This monument becomes a major tourist attraction to practically every visitor to Havana.
6.) in 2003 setting forth policy to Allow Cuban Americans with family in Cuba to only visit Cuba once every three years.
Gain the successful solidarity and hatred of every Cuban towards the Bush administration who shift their full support to their president Fidel Castro.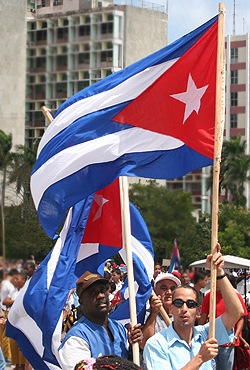 7.) Enforces trade embargo to Cuba allowing China and Europe to win bids on valuable oil leases in the water only 50 miles from the American coast. Where they begin building platforms drilling for the 9.5 billion barrels of oil the USGS estimates are there.
During a major energy crunch, rising Gasoline prices and dwindling Oil resources...Chinese Oil rigs are setting up shop within sight of American shores. Congress is now scrambling to try to push through exemptions for oil companies so they can bid on these leases.
The Bush Admin wants it all or none at all. Meaning the demise of Castro, The demise Of communism, and a Democratic system resulting in free and fair elections that will put someone into office that is acceptable to the Bush administration's interests, The Oil......okay.... This goes back to the Nobel prize winner what's his name?...oh yeah...Thomas Schelling....Ol' Tommy says:
"Bargaining always entails some conflict of interest in that each party usually seeks
an agreement that is as favorable as possible. Yet, any agreement is better for both
parties than no agreement at all. Each player has to balance the quest for a large
"share of the pie" against the concern for agreement.'
Just a second...I gotta take another toke on this smoke to understand this better......okay.....now....My man Thomas is saying that you gotta give to receive. Now I got it.
| | |
| --- | --- |
| 1902 | 2006 |
By the way....is it just me or does America's U.N. rep John Bolton have that pedophile child molester look about him...I mean that smile....eeeeee...creepy.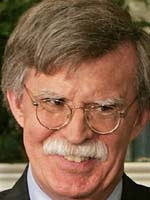 Here's a Gallery of Photographs I have taken in and around Havana, Cuba in May 2006
Alberto Korda took this photo of Che Guevara on the 5th of March, 1960 at the funeral for those who died when the steamboat La Coubra was sabotaged in the Port of Habana. it is the most reproduced image in the history of photography.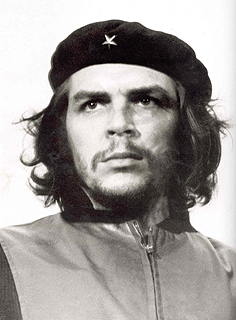 A Small Gallery of Alberto Korda, Diary of the Revolution
Contact: Daryl Moistner daryl@landsurveyor.pro